Fastest Track Time: 1.020 s
Fastest German car in 2023!
Fastest Total Time: 1.157 s
THE CAR - subject to evolut1on
A "perfect car" is fast, easy to produce and can withstand a lot of force when it slows down. In order to achieve the best combination of these three expectations, we have agreed on several key factors, that determine the "perfectness" of our car. During the component design process, each component is analysed by these key factors. This is also the reason why our development process consists of several phases: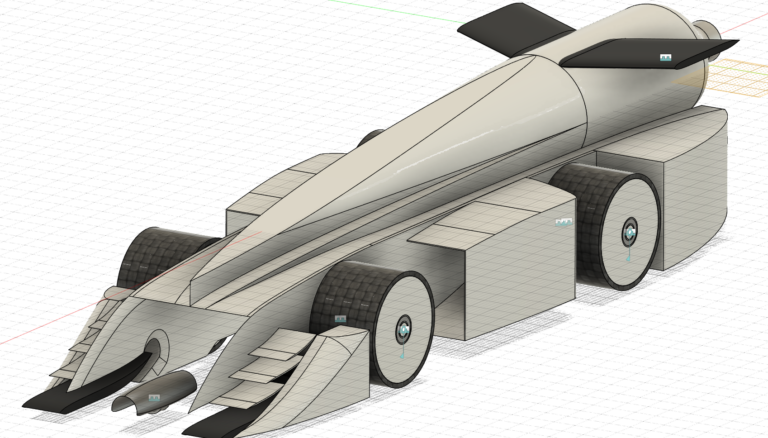 The main design goal is not only to minimize the cars drag, but also to find a balance between aerodynamic performance, stability and manufacturability. In order to achieve maximum efficiency, the construction process begins with the development of various part designs. After comparing these rough concepts against the key factors, we decide on one component design and only develop this into final stage.
To simulating our car, we use Ansys Fluent and SolidWorks Flow Simulation, which allows us to have results within five minutes after construction. At first, we analyze the airflow around our car in order to get a feel for where and how we can improve our cars aerodynamics. Then, we compare the new drag value of the current simulation with an older one. The simulations goal is to improve the aerodynamics of a specific component in small steps, as well as comparing completely different part designs.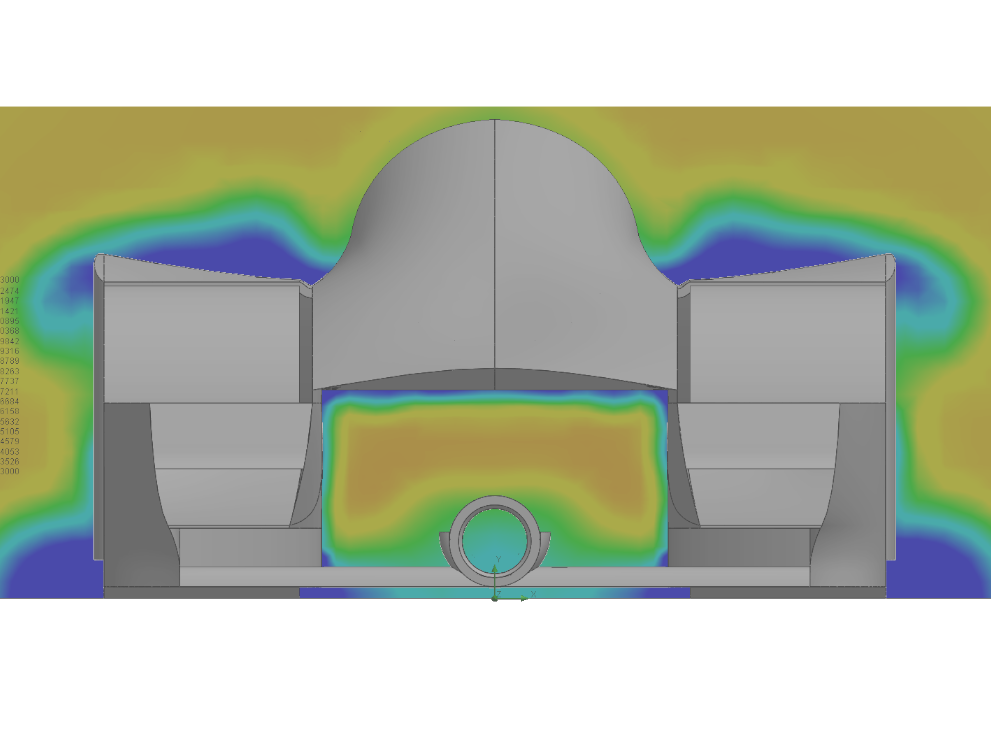 FEA-Analysis, allows us to identify the areas of our car where the material is stressed the most in case of a frontal impact. This is extremely important to prevent breakage or deformation when the car slows down. After this identification, we can increase the wall thickness of the material on certain components. 
At the beginning, the cars are printed by our sponsor Rolls-Roys Power Solutions using the high-quality powder printing process. After that, we optimize the surface conditions by the subsequent post-processing. Then we apply the primer, the sponsor stickers and graphic design. Finally there is a layer of clear coat. Then the ball bearings, wheels, guide elements and the colored marking of the wings are being attached.
To assure precesion and quality, we have developed a special mounting device for assembling the individual components. This is how we ensure that the ball bearings can run smoothly in the end.
Through the targeted use of test prints, we are able to adjust our cars' weight to the minimum of 55.5 grams. Thanks to our prototypes, that we always compare to our older models in the wind tunnel, we can also examine production-related factors such as the interaction between the ball bearings and the wheels.